Fully featured emissions analyser
Features
Large Graphical Display Up to 15 lines of text/data can be displayed
Wireless link from the handset to the base unit Offering cable free connection
GPS Location Pinpoint exact test location
Wireless & USB connection to PC Use the KANE LIVE software to monitor readings in "real time"
Large Internal memory Can store up to 64,000 tests
Main Purge Allows sensor zeroing without the need to withdraw the probe from the flue
Refreshes the sensors during long term monitoring
Automatically protects the sensor from being over-ranged
Active Flow Control Compensates for sample pressure fluctuation & filter blocking by adjusting the pump speed to maintain a set sample gas flow rate
Built in Printer with additional output to optional portable IR printer IR printer ideal when working away from the base unit.
Differential Pressure measurement with Pitot flow calculation.
User selectable languages
User selectable standard fuels by country
User defined 'special' fuels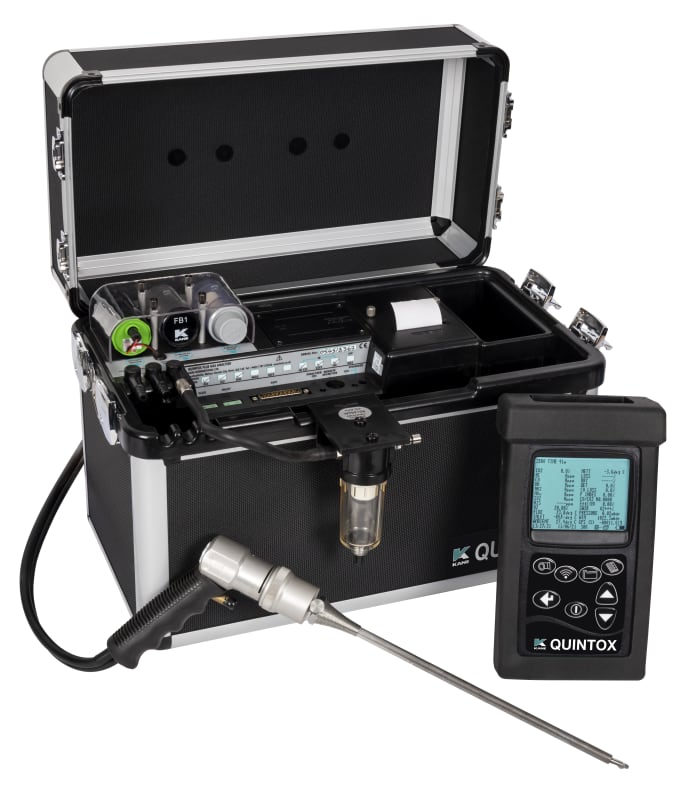 Measures
(Standard Kit) - 02 0-25% - CO (H2 Compensated) - 0-4,000ppm - Pressure 0-150 mbar - Efficiency 0-100% - Temperature 0-1100°C with optional probe
Fuel Types
Natural Gas
Butane
Propane
LPG
28 sec oil
35 sec oil
Wood pellets
User fuel
Heavy Oil
Box Contents
Analyser
Handset with cable
Charger
Manual
Calibration report
Service Price
Price on application.
All prices are in £ sterling and are exclusive of VAT.
Manuals